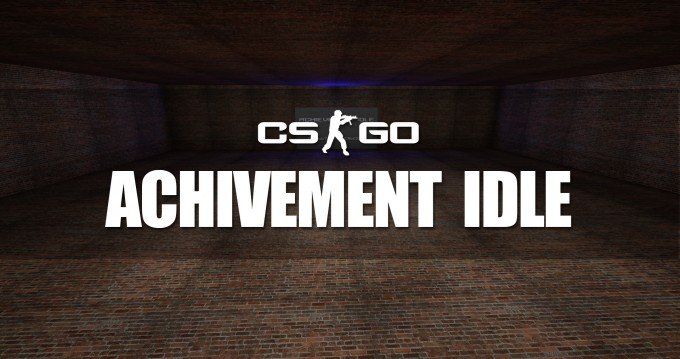 The "King of the Kill" and "Cold Pizza Eater" is considered some of the most difficult achievements to accomplish in CS:GO. Not because they require some crazy skills, but because they would take hours and hours to complete with normal gameplay. Lets say an average match of arms race takes about 5 minutes to complete, then 5000 matches would take 416 hours to get through !
With this method you can get both achievements in just over 3 hours and best of all – you don't have to do anything yourself at all. It is fully automated and requires little setup.
Wanna see this map in the workshop? Vote for it here.
Features:
Fully automated (idle friendly).
No setup required.
Super fast !
How to use the map
Download the achievement_idle_tobys_kingofthekill map.
Unzip the content.
Move the map "achievement_idle_tobys_kingofthekill.bsp" to your CS:GO maps folder.
Normally located in "C:\Steam\steamapps\common\Counter-Strike Global Offensive\csgo\maps".
Start Counter-Strike Global Offensive.
Open the console and type "map achievement_idle_tobys_kingofthekill".
Join the CT team (important).
Step on the box behind you that says "Step Here!".
You are done ! Wait a couple of hours and the achievements are yours.
Video guide
Troubleshooting
If you experience any problems, then try to quit CS:GO and start the game and map again. If it still doesn't work, try to type "game_mode 1" and "game_type 1" in the console, before joining the map.
The map will automatically execute the following commands:
mp_match_end_restart 1
0 = off, 1 = on – At the end of the match, perform a restart instead of loading a new map.
mp_match_restart_delay 1
min. 1 max. 120 – Time (in seconds) until a match restarts.
mp_halftime_duration 0
min. 0 max. 120 – Number of seconds that halftime lasts.
mp_humanteam ct
Restricts human players to a single team (values: any, ct, t).
mp_round_restart_delay 0.1
min. 0 max. 10 – Number of seconds to delay before restarting a round after a win
mp_warmup_end
No warmup round.
mp_maxrounds 1
min. 0 – Max number of rounds to play before server changes maps.
mp_autoteambalance 0
Autoteambalance, 0 = off, 1 = on.
mp_freezetime 0
min. 0 max. 60 – How many seconds to keep players frozen when the round starts.
mp_halftime_duration 0
min. 0 max. 120 – Number of seconds that halftime lasts.
mp_force_pick_time 1
The amount of time a player has on the team screen to make a selection before being auto assigned.
mp_force_assign_teams 1
0 = off, 1 = on – Players don't get to choose what team they are on, it is auto assigned.
If you know a more efficient way that requires less setup, is idle friendly and has the same speed or faster, then let us know in the comments below.