In this post, we will continue the series on CS:GO pro settings with a long requested player – Oleksandr "s1mple" Kostyliev.
If you happen to not know who it is, s1mple is a professional CS:GO player from Ukraine. He is currently on the roster for Natus Vincere (NaVi).
We have kindly borrowed most of the information from s1mple's ProSettings page – if you want to get the latest info, you might want to check out that link.
We have collected information on s1mple's setup, config, mouse settings & sensitivity, video & graphics settings and of course, crosshair settings.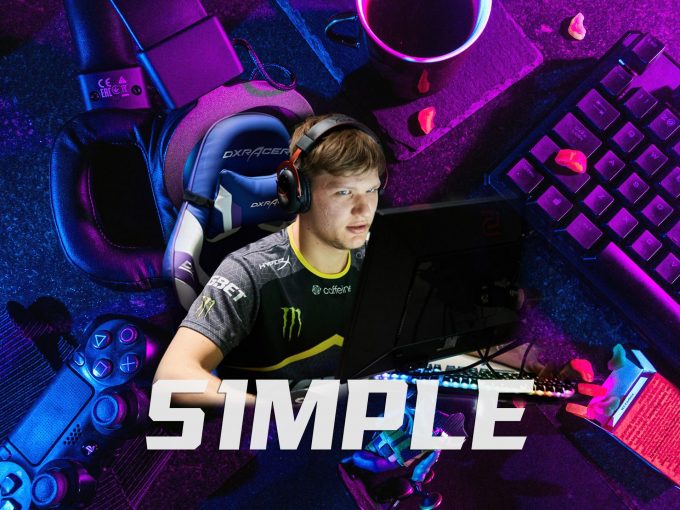 s1mple Mouse Settings & Sensitivity
In-game sensitivity: 3.09
Windows sensitivity: 6/11 (standard)
Zoom sensitivity: 1
DPI (which is really CPI): 400
eDPI: 1236
Polling rate: 1000 Hz
Raw input: Yes
Mouse acceleration: No
eDPI = In-game sensitivity x DPI
Watch the eDPI, most Counter-Strike professionals play with super low sensitivity. Read more in our mouse settings guide.
s1mple Setup & Gaming Gear
Please note that many professional players are sponsored by big brand names. Some are allowed to use whatever they like, whether this is the case for s1mple is not known. Nevertheless, they still want to use the best gear, so it shouldn't matter too much.
Click the links to read more and check the prices.
Monitor: BenQ XL2540 (240 Hz)
Mouse: Logitech G Pro Wireless Ghost
Mousepad: Hator INTBS
Keyboard: Logitech G Pro X
Headset: Logitech G Pro X
Graphics card: GeForce GTX 1080 Ti
All of the above links will lead to Amazon, where you can read more about the gear and check the current price. Please note that we are Amazon affiliated and earn commission on sales.
s1mple Video Settings
To stretch or not to stretch? s1mple use stretched resolution!
Resolution: 1280×960
Scaling mode: Stretched
Refresh rate: 240 Hz
Aspect ratio: 4:3
Saturation: 100
s1mple Crosshair Settings
This is the settings that s1mple use for his crosshair in CS:GO. Just copy it to the console or your own autoexec.
Launch Options
-novid -freq 144 -refresh 144 -tickrate 128
S1mple Config (CFG)
To use this, simply copy it to your own config file.
s1mple Autoexec
rate "786432"
cl_interp 0.031000"
cl_interp_ratio "2"
cl_cmdrate "128"
cl_updaterate "128"
fps_max "300"
s1mple Viewmodel Settings
viewmodel_fov "68"
viewmodel_offset_x "2.500000"
viewmodel_offset_y "0"
viewmodel_offset_z "-1.500000"
viewmodel_presetpos "3"
cl_viewmodel_shift_left_amt "1.5"
cl_viewmodel_shift_right_amt "0.75"
Conclusion
S1mple is one of the most popular CS:GO players of all time. In this article we have covered his settings and the setup he uses to dominate in CS:GO. If we missed something, or there is something you would want us to research, then feel free to leave a comment and let us know.