Understanding the basics of the mechanics behind the economy in Counter-Strike Global Offensive is very important! At least if you are playing competitive and/or trying to improve your game.
To begin with I will give you a little tip. If you are CT and lost the first round – buy! (armor, pistol, nades). At this point in the game, the enemy team economy is also weak, and they will probably stick with SMG's. If you lose, nothing is really lost, you will Eco on 3rd round (which you would have done anyway), but still be able to buy on the 4rd round (just don't waste all your money on decoy nades on 1st and 2nd round). For T side it is a little more complex – if you get a plant on the first round, but lose the round, you could go for full eco on 2nd round and then full buy on 3rd round. If you lose 1st round, I would buy on 2nd though.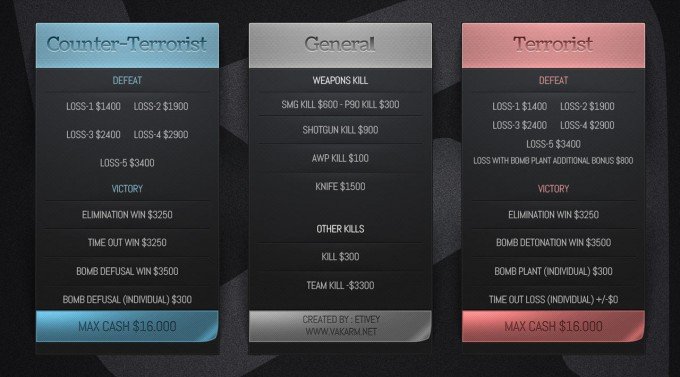 Now to the mechanics of the economy.
You start out with $800. Each weapon has its own weapon reward (see table below), the weaker weapon, the better reward (usually). That's why a lot of people buy SMG's on 2nd round – they are cheap, good against Eco players and gives higher kill rewards.
Now another thing is the objective reward, if you get on a losing streak, you will start earning more money each round. This will get reset the first round you win – so if you lose a lots of rounds, win and then lose the next round, you will most likely need to Eco again.
If you are Terrorist and dies after the timer runs out (when the bomb has not been planted), you will get 0 income. This makes it riskier to save as a Terrorist, because you could get killed after the timer runs out and then have no gun, armor or weapon the next round.
CS:GO Economy
| | | |
| --- | --- | --- |
| Objective | Team Reward | Player Reward |
| Kill all enemies | 3250 | |
| Timer runs out (CT) | 3250 | |
| Defuse bomb | 3500 | 300 |
| Bomb explodes | 3500 | |
| Bomb plant | | 300 |
| Lose 1st round | 1400 | |
| Lose 2 in a row | 1900 | |
| Lose 3 in a row | 2400 | |
| Lose 4 in a row | 2900 | |
| Lose 5 in a row | 3400 | |
| Lose, but get bomb plant (T) | 800 | |
Weapon kill rewards
| | |
| --- | --- |
| Weapon | Killreward |
| Pistols | |
| Glock-18 | $300 |
| P2000 | $300 |
| USP-S | $300 |
| Dual Berettas | $300 |
| P250 | $300 |
| Tec-9 | $300 |
| Five-SeveN | $300 |
| CZ75-Auto | $100 |
| Desert Eagle | $300 |
| Heavy | |
| Nova | $900 |
| XM1014 | $900 |
| Sawed-Off | $900 |
| MAG-7 | $900 |
| M249 | $300 |
| Negev | $300 |
| SMGs | |
| MAC-10 | $600 |
| MP9 | $600 |
| MP7 | $600 |
| UMP-45 | $600 |
| P90 | $300 |
| PP-Bizon | $600 |
| Rifles | |
| Galil AR | $300 |
| FAMAS | $300 |
| AK47 | $300 |
| M4A4 | $300 |
| M4A1-S | $300 |
| SSG 08 | $300 |
| SG 553 | $300 |
| AUG | $300 |
| AWP | $100 |
| G3SG1 | $300 |
| SCAR-20 | $300 |
| Gear | |
| Zeus x27 | $300 |
| Grenades | |
| Molotov | $300 |
| Incendiary Grenade | $300 |
| Decoy Grenade | $300 |
| Flashbang | $300 |
| High Explosive Grenade | $300 |
| Smoke Grenade | $300 |
| Other | |
| Knife | $1500 |